Sapporo area Kaiten-sushi Nemuro Hanamaru 6stores,Sushi bar Siki Hanamaru 3stores / Nemuro area Kaiten-sushi Nemuro Hanamaru 2stores / Tokyo Kaiten-sushi Nemuro Hanamaru 1store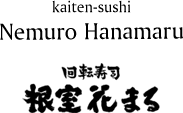 Our stores are full of vigor with quality fresh fish products, mainly from Nemuro, which flow along the sushi lane gorgeously. Our sushi has originality with colourful produce and powerful charms which are the pleasure of looking and the pleasure of choosing. The creativity is not just for visual affects but provides wonderful unique flavour combinations leaving your tastebuds craving more.

An authentic sushi bar where you can taste sushi and a-la-carte dishes all while being able to observe the chef's splendid hand skills within the graceful Japanese atmosphere. Various kinds of Sake, an original Japanese alcoholic rice wine, are available. We have our local Nemuro flavour as well as others from around Japan. Sake has a lovely flavour and is enjoyed with every kind of sushi. In addition to counter seats, there are comfortable tables and chairs, or the more traditional Japanese-style seats, all to suit any occasion.
Store location
Kaiten-sushi Nemuro Hanamaru
Kaiten-sushi Nemuro Hanamaru stores do not take reservations.
Tokyo area
KITTE Marunouchi (KITTE 丸の内店)
JP Tower 5F, 2-7-2, Marunouchi, Chiyoda-ku, Tokyo 100-0005
TEL:03-6269-9026
Ginza Kaiten-sushi (銀座店)
TOKYU PLAZA GINZA 10F, 5-2-1 Ginza, Chuo-ku, Tokyo 104-0061
TEL:03-6264-5735
Ginza Tachigui-sushi (銀座店)
TOKYU PLAZA GINZA B2F, 5-2-1 Ginza, Chuo-ku, Tokyo 104-0061
TEL:03-6274-6771
Nemuro area
Nemuro (根室店)
9-35, Hanazono-cho, Nemuro-shi, Hokkaido 087-0045
TEL:0153-24-1444
Nakashibetsu (中標津店)
3-3, Minamimachi, Nakashibetsu-cho, Sibetsu-gu 086-1146
TEL:0153-78-8708
Sapporo area
Minami 25 jo (南25条店)
Nishi 14, Minami 25, Chuoh-ku, Sapposo-shi, Hokkaido 064-0925
TEL:011-512-8003
JR Tower STELLAR PLACE
(JRタワー ステラプレイス店)
Nishi 2, Kita 5, Chuoh-ku, Sapporo-shi, Hokkaido 060-0005
TEL:011-209-5330
Nango (南郷店)
8-2, Nangodori 19 Minami, Shiroishi-ku, Sapporo-shi, Hokkaido 003-0022
TEL:011-868-0870
Nishino (西野店)
2-4-12, Nishino 2, Nishi-ku, Sapporo-shi, Hokkaido 063-0032
TEL:011-671-8700
Teine Maeda (手稲前田店)
11-1-5, Maeda 7, Teine-ku, Sapporo-shi, Hokkaido 006-0817
TEL:011-685-8700
Store location

Sushi bar Siki Hanamaru
Sapporo area
Tokeidai(Clock Tower) (時計台店)
Sapporo Tokeidai Building 1F, 2-1, Kita 1, Chuoh-ku, Sapporo-shi, Hokkaido 060-0001
TEL:011-231-0870
Susukino (すすきの店)
Sapporo M-SQUAEW 2F, 2-4, Nishi 2, Minami 4, Chuoh-ku, Sapporo-shi 064-0804
TEL:011-520-0870
PASEO (パセオ店)
PASEO WEST B1F, 1-7, Nishi 2, Kita 6, Kita-ku, Sapporo-shi, Hokkaido 060-0806
TEL:011-213-5870